Congress Gives Jeff Sessions $0 To Go After Medical Marijuana Laws
It's the latest sign that a major federal crackdown on state pot laws isn't likely.
It's TRUE!!!
WASHINGTON ― Congress, once again, is blocking the Justice Department from spending any money that interferes with state medical marijuana laws.
In their newly unveiled budget bill, lawmakers included a provision, known as the Rohrabacher-Farr amendment, that allows states to carry on with crafting their own medical marijuana policies without fear of federal intervention. The bill, which funds the government through the end of September, is expected to pass this week.
Here's the full text of the marijuana provision:
None of the funds made available in this Act to the Department of Justice may be used, with respect to any of the States of Alabama, Alaska, Arkansas, Arizona, California, Colorado, Connecticut, Delaware, Florida, Georgia, Hawaii, Illinois, Iowa, Kentucky, Louisiana, Maine, Maryland, Massachusetts, Michigan, Minnesota, Mississippi, Missouri, Montana, Nevada, New Hampshire, New Jersey, New Mexico, New York, North Carolina, Ohio, Oklahoma, Oregon, Pennsylvania, Rhode Island, South Carolina, Tennessee, Texas, Utah, Vermont, Virginia, Washington, West Virginia, Wisconsin, and Wyoming, or with respect to the District of Columbia, Guam, or Puerto Rico, to prevent any of them from implementing their own laws that authorize the use, distribution, possession, or cultivation of medical marijuana.
It's not unusual to find this tucked into a budget bill; lawmakers have been renewing the medical marijuana provision in every consecutive budget since it first passed in 2014. But what it shows is that Congress isn't interested in stepping up federal oversight of state pot laws under the Trump administration, even as U.S. Attorney General Jeff Sessions hints that he wants a crackdown.
He issued an ominous warning in February to states with legalized marijuana. "States, they can pass the laws they choose," Sessions said at a Justice Department press briefing. "I would just say it does remain a violation of federal law to distribute marijuana throughout any place in the United States, whether a state legalizes it or not."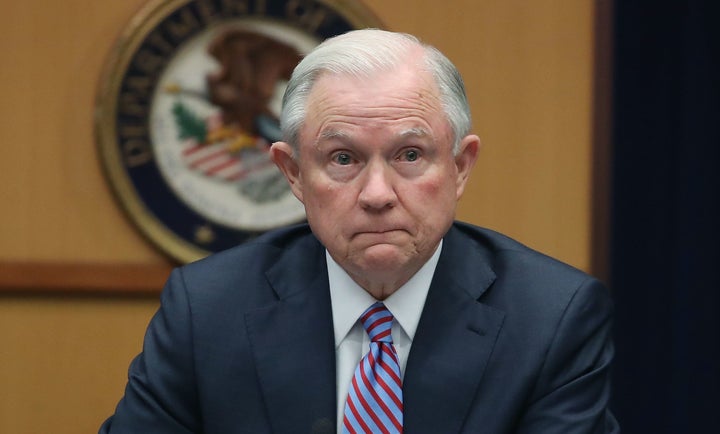 Jeffrey Zucker, president of the cannabis business strategy firm Green Lion Partners, praised lawmakers for sticking with the status quo.
"Medical cannabis patients in the U.S. can rest easy knowing they won't have to return to the black market to acquire their medicine," Zucker said. "Operators can relax a bit knowing their hard work isn't for naught and their employees' jobs are safe."
In theory, Sessions could still take action against states that have legalized recreational marijuana. Eight states and the District of Columbia have laws like this, and they are not shielded by the language in the budget bill.
And while medical marijuana is legal in 29 states and the District of Columbia (and 16 states have laws allowing limited use of cannabidiol, or CBD, the non-psychoactive ingredient in pot that holds promise for therapeutic use), cannabis is still illegal at the federal level. That's why proponents of medical marijuana are thrilled by the ongoing legislative caveat, but ultimately have their sights set on changing the law. 
"While this is great as a continuing step, it's important for activists and the industry to remain vigilant and getting cannabis federally unscheduled and truly ending the prohibition of this medicinal plant," Zucker said.
Weirdly, at least two states with new cannabis laws are not included in the legislative provision. North Dakota voters approved a medical marijuana ballot initiative in November, and Indiana passed a CBD law last week.
This article has been updated with additional information about the states listed in the provision.
CORRECTION: An earlier version of this article stated that 15 states have laws allowing use of CBD; it is 16.
ALSO ON HUFFPOST
50 Years Of Marijuana Polling