Vermont Gov. Peter Shumlin pardoned nearly 200 nonviolent offenders convicted of marijuana possession under the state's old laws. Will other state executives follow his lead?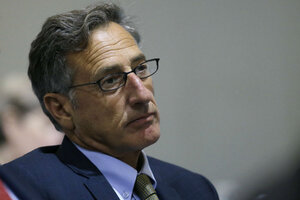 Elise Amendola/AP/File
Nearly 200 people in Vermont formerly convicted of nonviolent marijuana offenses will have their records wiped clean following a sweeping pardon from the state's outgoing governor.
Gov. Peter Shumlin (D) announced the pardons Tuesday for 192 people, all but 15 of whom live in Vermont and had former convictions for marijuana possession. The state decriminalized the substance in 2013, but has yet to legalize and regulate it for recreational use as have eight states, including some of Vermont's New England neighbors (Maine and Massachusetts).
While laws and attitudes toward marijuana have shifted significantly in the past decade, few pot offenders have received pardons – in part because governors – and presidents – are often reluctant to issue them no matter the offense. But the lack of pardons is also seen against the backdrop of years of fighting illegal drugs with a tough-on-crime approach. Even in states such as Colorado and Washington, where marijuana use has become legal and destigmatized, those governors haven't sought to reconcile past criminal records with current laws, sometimes leaving released pot-law offenders (even those without repeat offenses or violent histories) struggling to find work or to qualify for government assistance programs.
But as US public opinion shifts, it may put pressure on elected officials to offer more pardons for those involved in minor drug crimes, a move that would have been unthinkable just a generation ago.
"What he's [Governor Shumlin] doing is, it's almost unimaginably safe [from criticism] if you think in terms of 40 years ago," P.S. Ruckman, Jr., a professor of political science at Rock Valley College in Illinois, tells The Christian Science Monitor in a phone interview. "It's highly significant. I think it's likely we'll see more of it."
Mr. Shumlin's pardon applied only to people convicted of possessing less than an ounce of marijuana who had no violent criminal histories, felony convictions, or record of driving under the influence or reckless driving. In December, he issued a call for former offenders who fell into that category to apply for a pardon, offering to expunge the records or release to a group of individuals who ranged in age from their 20s to 60s.
The 192 he pardoned came from a list of some 450, but Shumlin says there are likely others eligible.
"When you look at the Vermonters who are sitting out there with criminal records because they had an ounce or less of marijuana — could have happened in the 1960s, 1970s, 1980s – there's thousands of them," he said in early December. After Tuesday, he's slated to go down in the state's most merciful governor, pardoning some 208 individuals, a new Vermont record.
Many previously arrested for marijuana possession lack connections to drug rings or violent gangs, but their record of conviction may make it more difficult to be hired for some jobs, gain acceptance to college, or qualify for government aid.
Mary Albyn, a 65-year-old healthcare worker, who received a pardon, told the Associated Press she was grateful. Arrested in 1973 on the border between the US and Canada for carrying a small amount of marijuana in her car, Ms. Albyn still had the incident on her record.
While she said the arrest never stopped her from securing a job, potential employers would mention it during a background check.
"They would bring me into a room and close the door and say 'are you aware?' That's how the conversation would start," Albyn said. "I would always say it's my status symbol as an old hippie, just to lighten up the situation, saying it's not a big deal."
But it's not just the decades-long stigma around marijuana use that's likely making other governors pause before following in Shumlin's footsteps. There's a risk associated with the act of pardoning any convict: Governors and presidents generally issue the reprieves sparingly, often risking criticism or blame should any of the offenders take up violent behavior after a pardon. That's one reason why presidents and governors tend to make such moves at the end of their terms.
But the criteria that had to be met for a convicted marijuana user in Vermont to qualify for a pardon, may offer a model for other state leaders.
Vermont Governor-elect Phil Scott (R), who will take office later this month, has voted in favor of medical marijuana use. As for legalizing pot for recreational use, Mr. Scott has said: "I'm not saying never. I'm saying it's the timing's not right. It's not now." While approving the pardons, he gave no indication he would continue the policy, the Burlington Free Press reported.
Other states' governors have remained quiet on the pardon front. While Massachusetts voted to legalize recreational marijuana in November and has begun the process of determining regulations and rules regarding the substance, the state's Republican governor, Charlie Baker, has not made a move to pardon former offenders. Massachusetts residents have started a petition calling on him to do so.
Some observers have applauded Shumlin's decision, but criticized his timing. Nothing changed legally between decriminalization by the state in 2013 and Tuesday's pardons, yet he waited for more than three years to issue the call for pardons applicants.
In that time, it's unclear how many now grantees faced challenges stemming from their former convictions, and Professor Ruckman says states could do better to go through the motion more regularly. In some states, a handful of people are generally pardoned each month as they apply and receive reprieve. That model could clean people's records and get them back to work or school sooner.
"If sentencing is going on regularly, and people are in prison regularly, and if people are rehabilitating themselves and living as law abiding citizens from day to day, then clemency should be going regularly as well," he says. "It's the elephant in the room. When you say, just before you leave office, 192 people deserve this second break. Did they just deserve it yesterday? Is that when it happened?"